Information
Although the tungsten alloys offered by Zhuzhou KJ Super Materials Co., Ltd. aren't very dense, yet the alloys are ideal for the attenuating of ionizing radiation. This virtue makes the alloys ideal for use in various shielding applications such as those required in nuclear medicine.
The capability to attenuate radiation is generally expressed in"tenth layer thickness" i.e- the requisite thickness of a plate that is essential to reducing the transmitted radiation to 10 percent of the intensity of incident radiation. The lower the tenth layer thickness figure, the more optimal is the shielding. The noteworthy thing here is that the attenuation properties also vary in proportion to the incident energy of the radiation
Graph :
demonstrates gamma-ray absorption characteristics of 95WNIFE and other shielding materials showing tenth-layer thickness (narrow beam/ radiation) as a function of incident beam energy. Data supplied by the National Physics Laboratory.
Graph: Comparative Absorption Data as a Function of Energy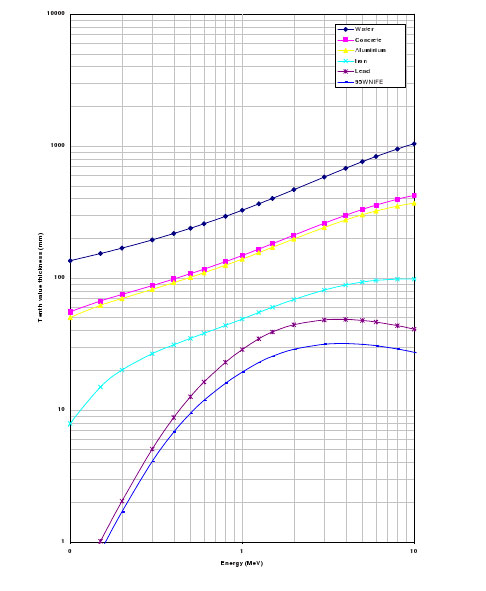 Comparative absorption data :
The tungsten content varies between 90-97 percent by weight within the tungsten alloy range. The more tungsten content, the better is the radiation attenuation and lesser is the tenth layer thickness.
Table - Comparative Absorption Data